You have new ideas but don't know who can implement them? We can support your project with our qualified, experienced employees and realize any requirement of our customers as regards of coating, finishing and visual appearance.
We cooperate with high technologized business partners and we are able to realize products with varied designs and patterns, as well as special coating compound to create unusual textures or optical effects.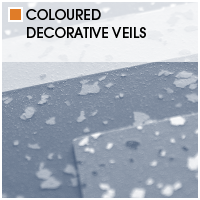 We are specialised in the coating of glassfibermats whereby the aesthetic design of the decorative layer of ceiling panels (grid ceilings) is the primary application area of our products.
The basis of our products comprises a glassfibermat in patterned one or two-tone print according to RAL, Pantone or NCS colour scale, as well as special designs according to templates (e.g. company lettering or logo printing). Furthermore, it is also possible to create visible and tangible 3D structures using structural foams.
Flame retarding paste and foam coating compounds are applied in varying grammages – within the framework of a special printing process – to the surface of the carrier material which also fulfil the requirements for the acoustic characteristics of the decorative glassfibermat.
The coated decorative glassfibermat are laminated on mineral wool or glass wool by further companies and tailored to the required grid dimensions. The coated glassfibermat also prevents the subsequent flocculation of mineral wool parts here.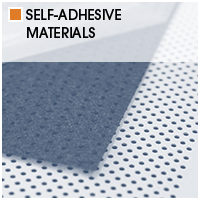 Self-adhesive materials are used for special applications. Here, the acoustic fleeces or alternatively glassfibermats are coated with self-adhesive glue and additionally laminated with a release foil.
These acoustic fleeces are used in perforated timber panels and metal ceiling systems, so-called perforated aluminium panels.
By using the fleece in these types of ceiling systems ancillary noise is reduced, e.g. in schools, open-plan offices, hospitals and other public buildings.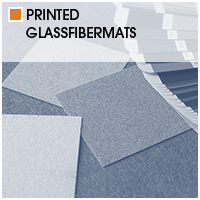 Glassfibermats with a low grammage and an open-pore surface can be coated in various colours.
Through the combination of the fleece with a special light-permeable coating our customers are able to produce translucent products. These can be cast in epoxy resin and polyester resin and are utilised in particular in light-permeable corrugated panels, in boat construction, and in general mould construction.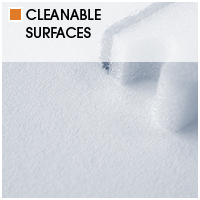 Special coating compounds enable a closed structure of the glassfibermat and – due to a very smooth surface – these products are perfect for application areas with extremely high hygiene requirements, including the food sector, the electronics industry and medical engineering. Dirt deposits are easy to remove and these glassfibermats are also resistant to many stains and are highly scratch and wear-proof. Furthermore, due to the water-repellent surface coating is the cleaning with a sponge or high pressure cleaner for example is also possible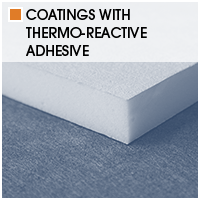 The basis for the coating is an EVAC (Ethylene Vinyl Acetate Copolymer), which is applied to the carrier material in a grid point process. These thermoplastic hotmelt adhesives can be combined with various materials during further processing at an application temperature of approx. 150 °C. Due to the extremely fast setting time they are suitable for rapid machine use.
The primary field of application of our glassfibermats with thermo-reactive adhesives is the combination with flexible, open-pore foam panels from melamine resin (a thermosetting plastic). Due to the low weight of these ceiling panels or ceiling sails, it is possible to achieve spans of up to 3000mm in combination with our product.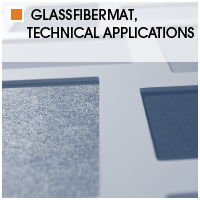 We have developed a range of innovative products over the past decades; be it for filter technology, radar screening or in insulation technology for high-volt transformers.
For ventilation and climate engineering special glassfibermats are given a hydrophilic (lipophobic = fat rejecting) coating. These are subsequently installed in corresponding filter elements, or cast in PUR foams. This hydrophilic coating prevents greases and oils from settling in the filter element.
For facades our products can be installed in glass inlays. For special applications, e.g. in airport areas, the facade can also be equipped with a radar-absorbing glassfibermat.
Specially coated glassfibermat are used for electrical insulation purposes with large transformers. The glassfibermat are installed between the coil windings as a separating layer and are subsequently cast with a polyester imide resin or an epoxy resin in an even more reactive state.
With this process high mechanical strength and very good thermal resistance are achieved for transformer coils after hardening, due to the glassfibermat used.
GET IN TOUCH
Fill out the form and we will get back to you as soon as possible.
Rade Beschichtungstechnik GmbH
Albert-Einstein-Straße 15
D-23617 Stockelsdorf